News
Fiona Apple
, Arcade Fire, the Decemberists, Bloc Party, Death Cab For Cutie, Kings Of Leon, Sufjan Stevens, M.I.A., Animal Collective and Antony And The Johnsons are all nominated for this year's New Pantheon Music Prize. The award, which will be announced on February 6th in Los Angeles, is given to "the most creative and artistic records of the year." The winner will be chosen by a select panel, which includes Beck, John Legend, Elton John, Ric Ocasek, the Roots' ?Uestlove, Keith Urban and Death Cab frontman Ben Gibbard -- who may be tempted to vote for his own band ...
Pete Doherty's
latest arrest cost him £50,000 when he wasn't released in time to play a gig in Austria. Austria's FM4 radio station was even more out of pocket as they had hired a private jet for Pete and also had to refund tickets. FM4 had hired a Learjet and crew, and kept it on stand-by for five hours at Luton - at a cost of £20,000. But Pete wasn't released on bail in time, leaving the station having to refund the price of the tickets, which amounted to £100,000. The Daily Mirror's source said: "Pete's bandmates, Drew McConnell and Adam Ficek, flew to Graz without Pete on Saturday afternoon because they thought he'd be released in time to join them for the gig. "The promoters organised the jet for 6pm. It was held for five hours... until it became clear Pete wasn't going to make it." Pete had been held on suspicion of driving under the influence of drugs and possession of class A and class C narcotics ...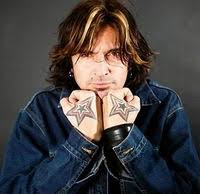 Motley Crue
drummer
Tommy Lee
, who recently starred in his own back-to-school reality TV show Tommy Lee Goes to College, will head to the big screen in a documentary about his life. The as-yet untitled film is the brainchild of filmmaker Bruce Sinofsky, one of the directors behind the rock-umentary Metallica: Some Kind of Monster, which tracked the rock band during its tense and emotional recording of St. Anger ...
The Red Hot Chili Peppers
plan to release the follow-up to 2002's multiplatinum By the Way, dubbed Stadium Arcadium, in early May. Originally conceived as a trilogy of thirty-eight songs, the Rick Rubin-produced effort will be a twenty-four-track double album. Song titles include "Charlie," "Snow," "Animal Bar," "Wet Sand," "Desecration Smile," "Hard to Concentrate" and "Dani California," the album's first single ...
Brother-sister act
Fiery Furnaces
will hit the road for an eighteen-date North American tour in support of their latest release, Rehearsing My Choir, in New Haven, Connecticut, on February 10th. The duo are set to release Choir's follow-up, Bitter Tea, later in the year ...
Bonus:
Wolf Parade - Apologies To The Queen Mary
[CODE]http://chardonbertrand.free.fr/
Eels - Souljacker
[CODE]
http://pub.chao.ch/mp3/Eels%20-%20Souljacker.rar


Placebo - Black Market Music



[CODE]
http://www.sweet-prince.msshost.com/multimedia/


Rage Against The Machine - Renegades



[CODE]
http://membres.lycos.fr/duboccharle/RATM%20-%20Renegades/


Snoop Dogg - 5 Albums




+ more



[CODE]
http://www.engill.net/


Albums: Jewel, Alice In Chains, RHCP, Björk, Better Than Ezra, Bob Marley,




Splender, Savage Garden, Utah Saints, The Crystal Method, Letters To Cleo,




Sheril Crow, Cher, Beyonce, Missy Elliot, Moby, No Doubt, Linkin Park, etc.



[CODE]
http://www.sbs.utexas.edu/jimmi/Mac/My%20Music/