News
British rocker
Pete Doherty
was given a twelve-month community service order, including another stint in drug rehab, after pleading guilty to several drug possession charges Wednesday. The Babyshambles frontman was refused bail and incarcerated January 27th after pleading guilty for heroin possession for the second time that week. In addition to rehab, Doherty will be required to submit to a monthly drug test. The singer is due back in court for a review on March 8th ...
Emo rockers
Hawthorne Heights
, in association with Victory Records, launched the MySpace-like Web site Thisiswhoweare.org this week. Beginning February 14th, members of the online community can enter the "Saying Sorry" contest for a chance to win a personal apology from the band during a show on the upcoming Black Clouds and Underdogs Tour (also featuring All-American Rejects and Fall Oot Boy). Free tickets and backstage passes will also go to the winner. The band's sophomore effort,
If Only You Were Lonely
, is due February 28th ...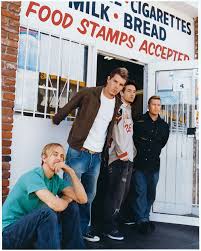 Southern California four-piece
Hoobastank
will release their third studio album,
Every Man for Himself
, on April 18th. "If I Were You," the first single, is currently available for a listen at the band's Web site, hoobastank.com, and hits radio this week ...
U.K. family act
the Magic Numbers
return to the U.S. this spring for twelve performances, including a stop at the Coachella Valley Music Festival an April 30th. Joining the indie-pop darlings for most of the club tour, which kicks of March 15th in Fort Worth, Texas, will be the Elected, the side project of Rilo Kiley man Blake Sennet ...
Built To Spill
will embark on a thirty-seven-date tour coinciding with the release
You in Reverse
, their first offering in five years. The spring trek begins April 11th, the date of
Reverse
's release, in Minneapolis ...
Bonus:
The Fiery Furnaces - Blueberry Boat




The Magnetic Fields - i




Ratatat - Ratatat




The Flaming Lips - Yoshimi Battles The Pink Robots




Reel Big Fish - Albums




Chimera - Delerium




Emilliana Torrini - Love In The Time Of Science




+ NIN, Jamiroquai, Garbage, etc.


[CODE]http://tinyurl.com/8x38k


Modest Mouse - The Moon And Antarctica



[CODE]
http://tinyurl.com/93zsd


Superbus - Pop'N'Gum



[CODE]
http://tinyurl.com/chlxl


Neutral Milk Hotel - In The Aeroplane Over The Sea



[CODE]
http://tinyurl.com/b6sn3


Calexico - Even My Sure Things Fall Through



[CODE]
http://tinyurl.com/8byb8


Son Volt - Trace




Time In Malta - Construct And Demolish



[CODE]
http://tinyurl.com/8ggt2


Old Dead Tree - Perpetual Motion



[CODE]
http://tinyurl.com/du7h4


VA - The Wired CD



[CODE]
http://tinyurl.com/dmuqc


Pulp Fiction - OST



[CODE]
http://tinyurl.com/9oadf


2Pac - Greatest Hits + All Eyez On Me



[CODE]
http://tinyurl.com/a5trw