News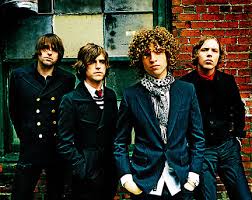 Canadian four-piece
Hot Hot Heat
are writing away, preparing to hit the studio May 1st to record the follow-up to their 2005 breakthrough, Elevator, for a September release. The new material, some thirteen tracks the band plans to co-produce, is the pop rockers' most collaborative yet -- thanks to the addition of guitarist Luke Paquin after founding axeman Dante DeCaro's departure during the making of Elevator ...
Velvet Revolver
will collaborate with hip-hop producer Pharrell Williams for the follow-up to their 2004 debut, Contraband. The supergroup -- including frontman Scott Weiland and former Guns N' Roses members Slash and Duff McKagan -- has been in the studio since March. Meanwhile, Weiland is also teaming with Pharrell for a track called "Happy," set to appear on Weiland's next solo album ...
U.K. indie rockers
the Futureheads
' sophomore album, News and Tributes, will arrive in the U.S. on June 13th. In addition to twelve original tracks recorded over six weeks with producer Ben Hillier (Blur, Depeche Mode), the first run of the band's LP will also feature three previously released tracks, "Area," "Help Us Out" and "We Cannot Loose," from their Area EP. News and Tributes' first single will be "Skip to the End." Select U.S. performances are scheduled for summer, including a July 29th stop at Chicago's Pitchfork Music Festival ...
Sigur Rós
are to re-release their 2005 single 'Hoppípolla' due to public demand. The track, which appears on the band's last album, 'Takk...', will come out again on May 1. 'Hoppípolla''s current high profile is due to it currently being used to trail the BBC's highly successful natural history series, Sir David Attenborough's 'Planet Earth'. The Icelandic band have just completed a UK tour, and will return to play summer festivals, including T In The Park and Oxygen over the weekend of July 8 and 9 ...
Sonic Youth
principals Thurston Moore and Kim Gordon, plus their daughter Coco on shakers, will appear on the season finale of the WB drama "Gilmore Girls" to perform an acoustic version of the new song "What a Waste." The show, of which the Moore/Gordon family is a professed fan, will be taped tomorrow (April 7) in Los Angeles and will air May 9. "What a Waste" can be found on Sonic Youth's next album, "Rather Ripped," which will arrive June 13 via Geffen ...
Bonus:
Twilight Singers - Blackberry Belle

!!!


Ugly Casanova - Sharpen Your Teeth

!!!


[CODE]http://tinyurl.com/fob9h
The Album Leaf - In A Safe Place

!!!




Lemon Jelly - Lost Horizons


[CODE]http://tinyurl.com/ehbv3


The Strokes - First Impressions Of Earth


Marcy Playground - Marcy Playground + Shapeshifter + MP3

!!!




Weezer - Make Believe




Nine Inch Nails - With Teeth


[CODE]http://tinyurl.com/hrl47


Sarah McLachlan - Solace


[CODE]http://tinyurl.com/jjwt9
Bear Vs Shark - Terrorhawk + Right Now You Are In The Best Hands

!!!


[CODE]http://tinyurl.com/kg5pa


Ghostface Killah - Fishscale




Cage - Favorite Bastard Babies (The Hell WInter Tour)




People Under The Stair - Stepfather




Matisyahu - Live At Stubbs




RJD2 - RJD2 Is God




The Herbaliser - Take London




+ Apathy, Prefuse 73, Nas, Morcheba, Vakill, Mad Skillz, etc.


[CODE]http://tinyurl.com/ggsqm


We Will Build - Sampler


[CODE]http://tinyurl.com/hdymn


Joy Division - Still + Substance + Unknown Pleasures


[CODE]http://tinyurl.com/eh7as


The Shapeshifters - Was Here


[CODE]http://tinyurl.com/g9j2u


Evil Nine - You Can Be Special Too


[CODE]http://tinyurl.com/fdd6t


Albums: Nightwish, Gamma Ray, Mago De Oz


[CODE]http://tinyurl.com/h5ovv


Philippe Rombi - 5x2


[CODE]http://tinyurl.com/zgh9g