Danielson (aka Danielson Famile)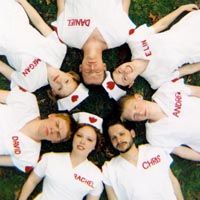 For his senior thesis project at Rutgers University, Daniel Smith handed in what became
Danielson Famile's
album
A Prayer for Every Hour
; he got an A. The album was released on Tooth & Nail Records in 1995. It features Smith backed by his siblings, who range in age from 12 to their early twenties.
Tell Another Joke at the Ol' Choppin' Block
, produced by Kramer (Galaxie 500, Low, Palace Brothers), followed in 1997. In 1998 Smith launched Tri-Danielson to convey his three distinct musical directions: solo, with his family, and a more rock-based incarnation called Danielsonship. Tri-Danielson released
Alpha
in 1998 and followed in 1999 with
Omega
.
Danielson Famile
is unmistakably a Christian band, but in the same way that Flannery O'Connor was a Christian writer. They reject the conventional set of Christian symbols and subject matter, while at the heart of every song, underneath the weirdness, is a perfectly orthodox Christian message; and Smith's falsetto vocals are downright shocking, an effective tool in cutting through the barriers to convey these messages. No contemporary Christian radio station in its right mind would ever play Danielson; they're just too out there. They sound like Captain Beefheart's Magic Band joined by the Partridge Family at some roadside revival along the Jersey Turnpike -- definitely an acquired taste.
In 2001, they signed to Secretly Canadian, ditching the overtly Christian Tooth & Nail label -- as well as longtime producer Kramer -- to release
Fetch the Compass Kids
. 2004 saw the release of
Brother: Son
, a Daniel Smith-produced project released under the moniker Br. Danielson. In 2006, Smith returned to the original Danielson moniker, employing every collaborator thus far in the Famile history. The resulting
Ships
arrived in 2006.
Ships is an amazing album. From the first to the last song it drives you through the wonderful world of Danielson's music. The contributions on the album include Deerhoof, Sufjan Stevens, Sereena-Maneesh, and more. Highly recommended!
Danielson - Did I Step On Your Trumpet
Danielson @ MySpace
Bonus:
Albums: Deerhoof, Wilco, Boredoms, The Fiery Furnaces, etc.


[CODE]http://tinyurl.com/rfgp3
Antony And The Johnsons - I Am A Bird Now + Fell In Love With A Dead Boy (CDS)

!!!


[CODE]http://tinyurl.com/p8zzh


The Bravery, The Killers, Suga Shikao


[CODE]http://tinyurl.com/rww4j


Wolf Parade - Apologies To The Queen Mary




Fatboy SLim - Live @ Clubbin On Slam FM 2006-04-29


[CODE]http://tinyurl.com/occmg


The Sweet - Sweet Fanny Adams


[CODE]http://tinyurl.com/qqkjr