News
Beth Orton
will return to the road this July for a month-long trek across the U.S. beginning July 7th at Burlington, Vermont's Higher Ground. The tour is in continued support of the British singer-songwriter's fourth album, Comfort of Strangers, which Orton toured the nation behind this past spring ...
Indie-pop five-piece
the Decemberists
are hard at work on their upcoming major-label debut, according to a band e-mail to fans. The band is currently in Portland, Oregon, narrowing down the existing twenty-two tracks to a single disc. The album, The Crane Wife, is scheduled for release on Capitol Records October 3rd. This summer, the Decemberists will perform at the Telluride Bluegrass Festival in Telluride, Colorado, alongside artists including Neko Case, John Prine, Bonnie Raitt, Drive-By Truckers and Barenaked Ladies. No other dates are on the books at this time, but a fall tour is expected ...
Scissor Sisters
, She Wants Revenge, Stars, Art Brut, Tapes 'N Tapes, and the Stills are among the performers for the 6th Annual Village Voice Siren Music Festival, taking place at New York's Coney Island July 15th. The all-day festival, which is scheduled to run from noon to 9:00 p.m., is free and open to fans of all ages. Other artists set to appear include the Cribs, Celebration and Dirty On Purpose, with more to be announced. For the past three years, the Siren Fest has attracted more than 100,000 fans, showcasing big-name acts alongside local bands and DJs. More information is available at villagevoice.com/siren ...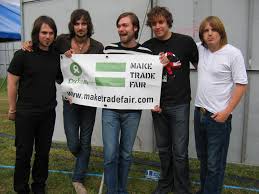 Kasabian
, Keane and Belle & Sebastian are among the bands who have joined the line-up for this year's T On the Fringe festival in Edinburgh. Muse and Snow Patrol had already announced stadium shows for the event, which takes place as part of the Scottish capital's annual international festival throughout August ...
Kanye West
and Tool will headline the 22nd Street Scene festival, to be held Aug. 4-5 outside San Diego's Qualcomm Stadium. Among the other acts confirmed to appear at the event include Wu-Tang Clan, Queens Of The Stone Age, Snoop Dogg, the Yeah Yeah Yeahs and Modest Mouse. The lineup on Aug. 4 will feature West headlining, alongside AFI, Social Distrotion, Bad Religion, Yellowcard, Lupe Fiasco, She Wants Revenge and Nine Black Alps, among others. The second night will be anchored by Tool and will also feature My Chemical Romance, Sean Paul, Bloc Party, Tricky, Futureheads, Tapes N' Tapes, G. Love & Special Sauce and the Subways ...
Bonus:
The Boy Least Likely To - The Best Party Ever

!!!


Kiss Me Deadly - Misty Medley

!!!


[CODE]http://tinyurl.com/hje75
Patrick Wolf - Lycanthropy

!!!


Low - The Great Destroyer

!!!


Red Sparowes - AT The Soundless Down

!!!


Owen - I Do Perceive

!!!




Idiot Pilot - Strange We Should Met Here


[CODE]http://tinyurl.com/hotow
The Stills - Without Feathers + Live At Wers

!!!




Red Hot Chili Peppers - Stadium Arcadium


[CODE]http://tinyurl.com/jh8hy


Muse - Absolution


[CODE]http://tinyurl.com/ge4ee


AFI - Decemberunderground


[CODE]http://tinyurl.com/fhvzd