News
The dates are still more than a month away, but
Modest Mouse
have pulled out of a brief, early August trek through California (Santa Barbara, Sacramento) and Oregon (Bend, Troutdale). According to the official Modest Mouse site, the band is currently on lockdown in a Mississippi studio with producer Dennis Herring (Counting Crows, Jars Of Clay), completing the follow-up to its breakthrough album, Good News for People Who Love Bad News ...
Bloc Party
are close to finishing the recording of their second album. In a letter to fans, the group have revealed that it features R'n'B beats, strings and double drum kits. The band have also filmed much of the recording process with a view to future inclusion on their fan space. Bloc Party are to finish the album at a London studio. It's expected to be released in early 2007 ...
Yo La Tengo
, surely one of the most commercially underrated bands there ever was, at least peers to Sonic Youth yet without the gold-plated praise, sonic welders, architects, gleeful artistic vandals of high eminence, are to release their umpteenth album the moment autumn steps into view. The brilliantly titled 'I Am Not Afraid Of You And I Will Beat Your Ass' will see light of day on September 11 and we are very excited about that indeed ...
Sleater-Kinney
will go on indefinite hiatus after it wraps up its summer show schedule. In a statement released through its label, Sub Pop Records, the band revealed that it will throw in the towel after it wraps up its tour commitments. No reasons were given for the breakup, which comes about a year after the act released its final effort, The Woods ...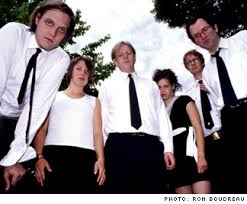 The Arcade Fire
's new album is nearing completion. Although the indie outfit gave precious few details regarding the follow-up to 2004's Funeral, it revealed in a post on its official website that it had 15 tracks mostly recorded. The recording process, which taps a pipe organ for a couple tracks, will continue, possibly recording a couple songs with a full orchestra in Budapest.
Bright Eyes
has broken work on the follow-up to a pair of albums released last year. Bright Eyes principal Conor Oberst told MTV News that his act had broken ground on a new album. The still-untitled effort is tentatively slated to show up in spring from Saddle Creek. It follows up a pair of albums simultaneously released by Saddle Creek in 2005, I'm Wide Awake, It's Morning and Digial Ash in a Digital Urn. The new album will feature a more classic take on Oberst's songwriting, diverging from the politics that partially guided his last efforts to non-activist songs.
Chin Up Chin Up
will have a new album in stores in October. The Chicago band will drop This Harness Can't Ride Anything Oct. 10 from Suicide Squeeze Records ...
Watch
The Secret Machines
- Live @ Rollingstone Original (video stream)
here
...
Bonus:
The Fray - How To Save A Life


[CODE]http://tinyurl.com/jesvd


Amon Tobin - Supermodified


[CODE]http://tinyurl.com/fu88c


Eddie And The Panes - Ellen Under Glass


[CODE]http://tinyurl.com/fy2cb


Beck - Odelay


[CODE]http://tinyurl.com/gqe4d


Electric Six - Senor Smoke


[CODE]http://tinyurl.com/fflqs


Evans Blue - The Melody And The Energetic Nature Of Volume




Red Hot Chili Peppers - Stadium Arcadium




Shinedown - Us And Them




VA - Alternative Times Vol.69 (2006)


[CODE]http://tinyurl.com/htto6