The Strokes - Live @ MTV Studios (vid)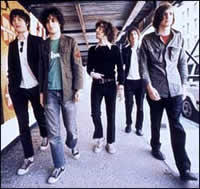 The sound of
The Strokes
is the result of frantic living, and the late nights and the early mornings they've spent making their music in New York City. Their music makes you want to forget who you are, and unlocks the possibilities of what you might want to be.
The Strokes are five close friends who began assembling together at the Music Building in New York City sometime in 1998 to lay down the foundations of a rock 'n roll band. Together on stage at a Strokes show you will see and hear: vocalist/songwriter Julian Casablancas delivering biting lyrics, Fabrizio Moretti beating his drums with furious precision, guitarist Albert Hammond Jr. moving smoothly on his feet while his fingers effortlessly flow over his axe, guitarist Nick Valensi with pick in hand tantalizing you with his quick and raw solos, and bassist Nikolai Fraiture looming like a shadow and plucking away with silent enthusiasm.
The band's demo was released by Rough Trade Records as a three-song EP called
The Modern Age
. A later single, Hard to Explain, debuted at number 16 on the UK charts. The band signed with RCA Records and their debut
Is This It
was greeted with huge praise and hype in the US and UK. It was won numerous end of the year music awards. They followed it up with another enthusiastically received album, 2003's
Room on Fire
. Early in 2006, they returned with the even more polished and poppy
First Impressions of Earth
.
The presented is the Strokes live performance at MTV Studios from 5th March 2006. Filmed live at the MTV studios in London, watch as the Strokes put on an amazing performance, and run through a selection of their biggest hits, as well as showcasing many of their newest tracks.
The set list includes:
Juicebox
Hawaii
Hard To Explain
Heart In A Cage
Whatever Happened?
Evening Sun
The End Has No End
Someday
The Strokes - Live @ MTV Studios (vid)
Bonus:
Low - The Great Destroyer

!!!


Sonic Youth - Sister

!!!


Gang Of Four - Entertainment!

!!!


Jale - Dreamcake

!!!


Yeah Yeah Yeahs - Show Your Bones

!!!


Logh - A Sunset Panorama

!!!




Cobolt - A Few Hours Captured + Spirit On Parole




Codeine - White Birch




Johnny Cash - Albums


[CODE]http://tinyurl.com/gandx
John Frusciante - Curtains

!!!


[CODE]http://tinyurl.com/jfllz


AFI - Decemberunderground (2006)




Apoptygma Berzerk - You And Me Against The World + Shine On


[CODE]http://tinyurl.com/fyp8d


AFI - Black Sails In The Sunset + Sing The Sorrow




Nap - Nap's House Of Pancakes


[CODE]http://tinyurl.com/zqpg9