News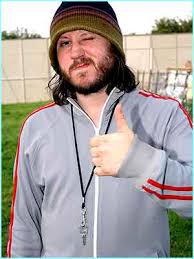 Badly Drawn Boy
has announced details of his long-awaited new album. After a two-year absence, the singer-songwriter releases Born In The UK on October 23, reports NME.com. The album will be his first for new label EMI, after splitting from XL. Tracks include the Springsteen-inspired title track, Degrees Of Separation, Nothing's Going To Change My Mind, Promises and Times Of Times ...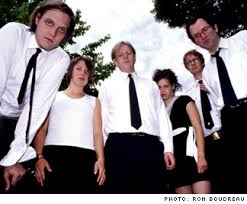 The Arcade Fire
are going to pass on the notion of bringing on an outside producer in to help with its next album. Front man Win Butler posted an update on the band's official site saying his crew will self-produce its follow-up to 2004's self-released Funeral. "After trying to decide if we should work with any producers we kind of realized that we already know how we want things to sound so we should just run after that sound as far as we can and not rely on someone else to guide the good ship Arcade Fire...at least for now." The act's in the midst of recording the album in a church converted into a recording studio in its hometown of Montreal ...
Lily Allen
says she only fancies men who are "really tall - or really fat". Lily told the Mirror she's got her eye on England star Peter Crouch and also likes Radio 1 DJ Chris Moyles. "I like a man to look and feel like a man. Maybe it's a protection thing. Typically good-looking guys do nothing for me. In fact, I find it a turn-off." The 21-year-old added: "I only like them if they're really, really tall or really fat. People say it's weird, but that's what I find attractive." Lily is single after splitting from A&R man Seb Chew, she says: "He finished with me and it was really sh*t, but if you're going to have to get dumped there are worse times than when you've got a No 1 single!" ...
Kings of Leon
are to release a download-only EP. 'Day Old Belgian Blues' features six live tracks, taken from their 'Youth And Young Manhood' and 'Aha Shake Heartbreak' albums. The tracks were recorded at the AB Box in Brussels in November 2004. The EP is available for download via their official website kingsofleon.com ...
Ben Kweller
's put the finishing touches on his next album -- and he plays every note on the record. Kweller joined producer Gil Norton for Ben Kweller, due out Sept. 12. The epynonymous affair follows up 2004's On My Way ...
Metric
plays live @ Rollingstone, watch
here
...
Bonus:
Antony & The Johnsons - S/T + The Lake [EP] + Live At St Olave's Church

!!!


Russian Circles - Enter (2006)

!!!


Sufjan Stevens - Enjoy The Rabbit + Greetings From Michigan + Come On Feel The Illinoise

!!!




Animal Collective - Grass [EP]




Vincent Gallo - When


[CODE]http://tinyurl.com/r8kug


Death From Above 1979 - You're A Woman, I'm A Machine




Dredg - Catch Without Arms




Panic! At The Disco - A Fever You Can't Sweat Out




Sigur Ros - Takk


[CODE]http://tinyurl.com/ovycy


The Distillers - Coral Fang




Diam's - Dans Ma Bulle (2006)


[CODE]http://tinyurl.com/r4wzk


Nine Inch Nails - Singles


[CODE]http://tinyurl.com/s2jj4


Sylvain Chauveau & Ensemble Nocturne - Down To The Bone: An Acoustic Tribute To Depeche Mode




Thom Yorke - Eraser




Pure Mornin - Lost In Chicago


[CODE]http://tinyurl.com/mvct7


Nathan Fake - Drowning In The Sea Of Love




+ DJ Kicks, London Elektricity, etc.


[CODE]http://tinyurl.com/nuay5


Moby - Hotel


[CODE]http://tinyurl.com/nhhpj