Damien Jurado
Urban folk singer/songwriter
Damien Jurado
quietly built up one of the strongest catalogs on the indie scene, earning high critical praise yet somehow never quite getting his proper due. Nick Drake had a definite impact on much of his work, but Jurado modeled his career on more idiosyncratic, unpredictable figures like Neil Young, Bob Dylan, Lou Reed, or Randy Newman -- songwriters who followed their own muse wherever it took them, whether fans and critics agreed or not. His independent-mindedness was born at least in part from the influence of punk, and one of the results was a concern for emotional authenticity that led him to delve into other people's lives instead of his own. Many of Jurado's best songs spun concise, literate tales of quiet everyday despair, which often earned him comparisons to short story writer Raymond Carver. But his storytelling bent -- not to mention his ambivalence toward confessional material -- arose from a stronger grounding in traditional folk than spiritual compatriots like Elliott Smith or Cat Power. And with detours into pop, roots rock, full-fledged electric indie rock, and even found-sound experiments, Jurado ensured that his body of work was impossible to completely pin down.
Jurado issued his proper debut album,
Waters Ave S.
, in 1997, and followed it with a spare, home-recorded EP for Made in Mexico,
Gathered in Song
, a year later. Jurado's sophomore effort was also his breakthrough; released in 1999, the excellent
Rehearsals for Departure
established him as a singer/songwriter of tremendous subtlety and skill, and won near-universal critical acclaim. For his next move, Jurado confounded fans and critics alike with 2000's
Postcards and Audio Letters
, a compilation of conversation fragments found on the audio cassettes that Jurado collected obsessively (from sources like thrift-store boom boxes and answering machines) and often used for songwriting inspiration.
The proper follow-up to Rehearsals for Departure was
Ghost of David
, issued on Sub Pop later in 2000. Jurado next turned to the Burnt Toast label to issue the one-off EP Four Songs in 2001, then formed a full band dubbed Gathered in Song for a change of pace from his typically mellow style. Featuring guitarist Eric Fisher, bassist Josh Golden, and drummer Andy Myers (all of whom played more than one instrument), Gathered in Song debuted on Jurado's next album, 2002's fully electrified
I Break Chairs
.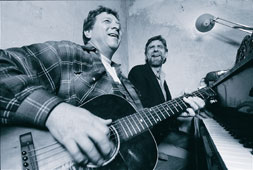 Jurado subsequently parted ways with Sub Pop, looking to scale back his recording and touring activities in order to spend more time with his family and, to a lesser degree, his day job as a preschool teacher. He landed on the Indiana-based Secretly Canadian label, for whom he debuted in 2003 with
Where Shall You Take Me?
, a return to his trademark low-key folk-ballad style. In typical fashion, he followed it with an EP for a smaller label (Acuarela) titled
Holding His Breath
. A year later, he returned to Secretly Canadian for another EP,
Just in Time for Something
; early in 2005 his next full-length,
On My Way to Absence
, arrived.
Damien Jurado will be touring coast to coast beginning Sept. 26 and on through the month of October in support of his new album
"And Now That I'm In Your Shadow"
which will be out in stores on October 10.
Damien Jurado - What Where The Chances
(from
And Now That I'm In Your Shadow
)
Damien Jurado - Lion Timer
(from
On My Way To Absence
)
Damien Jurado - White Center
(from
On My Way To Absence
)
Damien Jurado - Texas To Ohio
(from
Where Shall You Take Me?
)
Damien Jurado @ MySpace
Bonus:
Nellie McKay - Get Away From Me + Pretty Little Head (2006)

!!!


[CODE]http://tinyurl.com/zantn


Ani DiFranco - Albums


[CODE]http://tinyurl.com/grxws


Alternative/Punk Albums


[CODE]http://tinyurl.com/eno55


Tv On The Radio - Desperate Youth, Bloodthirsty Babes




Death From Above 1979 - You're A Woman, I'm A Machine




Regulations - Electric Guitar


[CODE]http://tinyurl.com/l49y4


Tv On The Radio - Return To Cookie Mountain + Desperate Youth




Cotton Mather - Kon Tiki


[CODE]http://tinyurl.com/zdu73


Albums: Pantera, Tool, Incubus, A Perfect Circle, Chevelle, John Rutter, etc.


[CODE]http://tinyurl.com/gwghm