News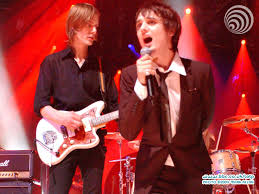 Babyshambles
have confirmed that they will release seven songs under the title The Blinding EP. The recording, which is due for release in late November, will be the band's first release since leaving Rough Trade records last year. Bassist Drew McConnell told NME that the EP could even have been a full-length album. "We recorded 11 songs but we're only going to put seven on the EP," he explained. Both the band and their new label are using the EP as a tester for a potential long-term record deal ...
Keane
plan to release live albums from each night of their upcoming UK tour. The band are planning to record every show and get CDs of the gigs pressed on site and made available ten minutes after the band vacate the stage, reports NME. The bootlegs can be pre-ordered before the gig or bought on the night - only 1000 will be made available for each show ...
British buzz-band
The Klaxons
are delaying their inaugural trip to the United States. The band, dubbed "new rave" by the British music press, was scheduled to play a five-date tour starting Nov. 1 in New York, but nixed those plans. Instead, they'll reschedule those shows sometime in early 2007. No reasons were given to the cancellation ...
We Are Scientists
are getting set to unload their crap on fans with an oddballs collection. The act's Crap Attack CD/DVD package rounds up a series of B-sides and remixes and a DVD full of live recordings and music videos. The collection, which the band dubbed "our most unedited expulsion to date," follows up this year's With Love and Squalor (Virgin) ...
The Black Rebel Motorcycle Club
will be back in early 2007 -- with a louder album. The band broke ground on the follow-up to last year's Howl (RCA), according to Billboard. The magazine also reports that the trio's preparing a set that gets away from the acoustic numbers on Howl to bring back electric arrangements for some of the album ...
Nine Black Alps
are ready to record a new album. The British rock act announced it was packing its bags to head to Los Angeles to record the follow-up to this year's Everything Is (Interscope). Dave Sardy (Dandy Warhols, The Walkmen) will man the boards. No release date for the album has been revealed, though the act hinted at an early 2007 release ...
Bonus:
Jet - Shine On (2006)

!!!


The Pipettes - We Are The Pipettes

!!!




Bad Religion - Generator + How Could Hell Be Any Worse


[CODE]http://tinyurl.com/ym2rzq
Hardcore Superstar - Bad Sneakers And A Pina Colada

!!!




Panic! At The Disco - A Fever You Can't Sweat Out


[CODE]http://tinyurl.com/yfgr5x
The Decemberists - The Crane Wife

!!!


The Wrens - Meadowlands

!!!


Cold War Kids - Up In Rags [EP]

!!!




Broken Social Scene - Live


[CODE]http://tinyurl.com/o74t4


The Killers - Sam's Town




Evanescence - The Open Door


[CODE]http://tinyurl.com/yftjdj


Lisa Ekdahl - Albums


[CODE]http://tinyurl.com/ydml7x


Evanescence - The Open Door


[CODE]http://tinyurl.com/yfeww2


James Blunt - Back To Bedlam


[CODE]http://tinyurl.com/yezr3y