Elf Power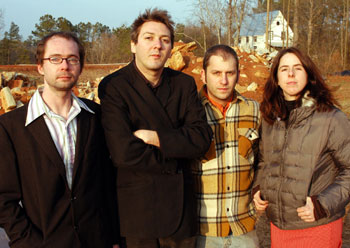 The Athens, GA-based
Elf Power
emerged as part of the second wave of bands linked to the Elephant 6 Recording Company collective, a coterie of like-minded, lo-fi indie groups -- including the Apples (In Stereo), Neutral Milk Hotel, and the Olivia Tremor Control -- who shared musicians, ideas, and sensibilities. Formed by singers/multi-instrumentalists Andrew Rieger and Laura Carter, Elf Power debuted in 1995 with the self-released
Vainly Clutching at Phantom Limbs
, followed a year later by the Winter Hawk EP, which heralded the additions of bassist Bryan Helium and drummer Aaron Wegelin. The excellent
When the Red King Comes
appeared in late 1997, and two years later the group returned with
A Dream in Sound
; also in the spring of 1999, a series of live dates with the Olivia Tremor Control yielded the tour-exclusive EP Come On.
Winter Is Coming
followed a year later. In 2002, the group released the conceptual record
Creatures
(which saw the amicable departure of bassist Bryan Helium) and
Nothing's Going to Happen
, a collection of covers ranging from Gary Numan to the Misfits. Two years later, the group returned with
Walking with the Beggar Boys
, a decidedly more straightforward offering that included new members Eric Harris (formerly of the Olivia Tremor Control) and Craig McQuiston (formerly of the Glands). After switching to Rykodisc, Elf Power issued their eighth album,
Back to the Web
, in 2006.
Bonus:
Peel Sessions: The 90 Day Men, Belle & Sebastian, New Order, Sonic Youth, Joy Division, etc.


[CODE]http://tinyurl.com/ymlfev


Beck - The Information (2006)


[CODE]http://tinyurl.com/ydx8yh


VA - Taste Of Christmas (Funeral For A Friend, Plain White T's, The Used, etc)




The Panic Division - Versus




Fall Out Boy - From Under The Cork Tree


[CODE]http://tinyurl.com/yhe4em


Jet - Shine On




The Killers - Sam's Town




Less Than Jake - In With The Out Crowd




Me First And The Gimme Gimmes - Love Their Country


[CODE]http://tinyurl.com/yc425g


The Killers - Sam's Town


[CODE]http://tinyurl.com/ym2nxx


The Flaming Lips - Yoshimi Battles The Pink Robots




Placebo - Albums


[CODE]http://tinyurl.com/yn5q5c


Matisyahu - Youth + Live At Stubbs


[CODE]http://tinyurl.com/yd7hp9