News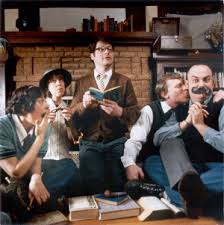 The Decemberists
have a live EP ready for downloaders. The act rounded up four live recordings for a digital EP for Sony Connect. The EP draws primarily on material from the act's latest, this year's The Crane Wife (Capitol), though tosses in a holiday tune yanked out of John Denver's songbook. The live tracks offered include: O! Valencia, The Perfect Crime #2, The Crane Wife 1 and 2 and Please Daddy (Don't Get Drunk This Christmas) ...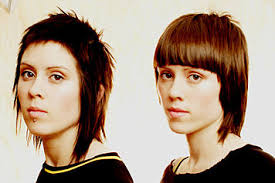 Tegan and Sara
have started work on their next album. Tegan Quinn revealed that her and her twin Sara are at work on the follow-up to 2004's So Jealous (Vapor/Sanctuary). The duo imported Death Cab for Cutie's Chris Walla to Montreal to man the boards as the album comes together. No title or release date for the album has been revealed ...
A brand new
Franz Ferdinand
song will feature in an upcoming Scottish film. Franz Ferdinand's contributed an unnamed song to the soundtrack for Hallam Foe. The band's contribution will surface on the Domino Records released soundtrack, alongside songs by other Domino artists such as Sons and Daughters, Psaap and Four Tet. No release date for the soundtrack has been revealed. The film Hallam Foe is scheduled for a Feb. 9 release in the United Kingdom. No American release has been scheduled ...
The Brakes'
sophomore album hit stores in the United Kingdom this week. The band's Beatific Visions hit stores Monday (Nov. 6) from Rough Trade Records in the United Kingdom. The 11-track effort was recorded by Stuart Sykes at Nashville's House of David Studios, and follows up the band's 2005 debut, Give Blood (Rough Trade) (read Aversion's review). No American release date's been set yet ...
The Ataris
will return to action early next year on their own record label to be ran by Sanctuary Records. The band's Welcome the Night is set for a February release from Isola Recordings, an imprint that will be overseen by Sanctuary. The Ataris searched for a new record company since June, when they publicly parted ways with Columbia Records ...
The Figgs
will have a new album in stores by the end of the month. The power-pop outfit's Follow Jean Through the Sea is set to hit stores Nov. 28 -- bumped back from its originally scheduled release (Oct. 14) -- from Gern Blandsten. The 10-track effort helps the band mark its 20th year together, and follows up 2004's Palais (Sodapop) ...
Bonus:
Joanna Newsom - Ys (2006)

!!!


Of Montreal - Hissing Fauna, Are You The Destroyer?

!!!




Math And Physics Club - Math And Physics Club + EPs




Land Of Talk - Applause Cheer Boo Hiss




+ Ether Aura, Sonic Youth, Freezpop, Cocteau Twins, Camera Obscura, The Bicycles,




Ms John Soda, Ozma, Archie Bronson Outfit, Ladytron, Tycho, Voxtrot, Ratatat,




New Order, Architecture In Helsinki, The Decemberists, etc.


[CODE]http://tinyurl.com/y6oo8h


Jolie Holland - Catalpa




Joanna Newsom - Milk-Eyed Mender




Gillian Welch - Soul Journey




Mamadou Diabate - Tunga



[CODE]
http://tinyurl.com/yyelwb


Nada Surf - The Weight Is A Gift



[CODE]
http://tinyurl.com/y7ku4z