The Raconteurs - Live @ Lollapalooza 2006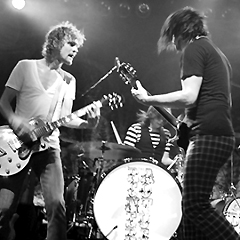 A self-described "new band made up of old friends,"
the Raconteurs
feature the White Stripes' Jack White and power pop maestro Brendan Benson on vocals, keyboards, and guitars, and the Greenhornes' drummer Patrick Keeler and bassist Jack Lawrence as the group's rhythm section. The idea for the band began when Benson and White collaborated on the song
"Steady, as She Goes,"
which later became the Raconteurs' debut single. When the duo drafted Keeler and Lawrence, they became a full-fledged band. Recording together at Benson's East Grand Studio whenever they were available from their other projects, the Raconteurs recorded their debut album,
Broken Boy Soldiers
, over the span of a year and released it in spring 2006 to middling reviews but a Top Ten place on Billboard's album charts. That year, the band also relocated to Nashville and worked on another batch of songs in between touring and dates at festivals such as Lollapalooza.
The Raconteurs - Live @ Lollapalooza 08-04-2006
Bonus:
Tom Waits - Orphans Brawlers, Bawlers, Bastards (2006)

!!!


[CODE]http://tinyurl.com/y48ltp


Feist - Let It Die


[CODE]http://tinyurl.com/y3cgxo


Cocorosie - Noah's Ark


[CODE]http://tinyurl.com/y6u6hs
[CODE]http://tinyurl.com/y2utj7
VA - Little Miss Sunshine (Mychael Danna, DeVotchKa)

!!!


Pete Yorn - Nightcrawler

!!!




+ The Magic Numbers, Tapes'N'Tapes, Weezer, Air, The Spinto Band, Cat Power, Erasure,




David Bowie, Outkast, The Ramones, The Beach Boys, Yeah Yeah Yeahs, etc.


[CODE]http://tinyurl.com/yy5hr5


Yo La Tengo - Live 5-13-00



[CODE]
http://tinyurl.com/yx9bv4


Isis - In The Absence Of Truth




Mastodon - Blood Mountain




Slayer - Christ Illusion




Nacho Libre - OST


[CODE]http://tinyurl.com/vhx62


Broken Social Scene - You Forgot It In People


[CODE]http://tinyurl.com/hv74g


The Ventures - Albums




Klimperei - Un P'tit Coin De Ciel Gris


[CODE]http://tinyurl.com/y68acj


VA - A Brutal Christmas - The Seasons In Chaos


[CODE]http://tinyurl.com/y3jpog


Indie/Alternative/Rock/Other Albums


[CODE]http://tinyurl.com/y5c4gz