Frank Turner + Bright Eyes New Album
Frank Turner
is Bahrain born singer-songwriter. He used to play in a punk band called Million Dead from 2001-2005. In that time, the band released two albums. After the band had split, Frank began his solo career. In 2005, he released a split album with his friends Reuben, a CDEP titled "Campfire Punkrock" and even a split with legendary US singer Jonah Matranga. The same team is coming back together for the debut album, due for release on January 15th 2007. Entitled
"Sleep Is For The Week"
, it features 13 tracks and will be available across the UK (and hopefully further afield as the year goes on). 'Sleep Is For The Week' perfectly captures Frank's past 12 months in brutally honest and heartfelt detail. From the split of previous band Million Dead, to triumphantly supporting The Automatic on their recent huge UK tour, 'Sleep...' documents the highs and lows with astounding lyrical and storytelling talent. Check it out!
Frank Turner - Vital Signs
Frank Turner @ MySpace
Bright Eyes Announce New Album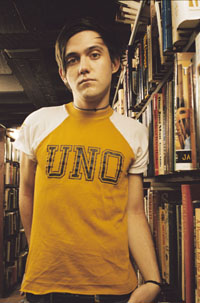 Conor Oberst and producer Mike Mogis have spent much of 2006 in the studio working on the follow up to 2005's breakthrough
Bright Eyes
albums "I'm Wide Awake Its Morning" and "Digital Ash In A Digital Urn". Recording in such exotic locales as New York City, Los Angeles, Portland, OR and Lincoln, NE, the Bright Eyes line-up for the new record includes full-timers Conor, Mike and Nate Walcott. The album sessions include guest performances from M.Ward, Gillian Welch and Janet Weiss of Sleater-Kinney. Titled "Cassadaga", the album is due for release in the UK on 9th April 2007. "We're really wanting to be experimental with this one. Sort of folky and trippy and hopefully a little more cosmic," says Conor. Conor Oberst recently penned a deal with Polydor in the UK to release Bright Eyes records worldwide excluding N. America where Conor and co. remain on their hometown label Saddle Creek records in Omaha, Nebraska. A single, "Four Winds" will be released prior to the album on 2nd April.
Bright Eyes - Endless Entertainment
(from upcoming
Cassadaga
)
Bright Eyes @ MySpace
Bonus:
Emily Haines (Metric) - Cut In Half And Also Double

!!!


[CODE]http://tinyurl.com/yzj5pg
Beach House - Beach House (2006)

!!!


Grizly Bear - Yellow House (2006)

!!!


[CODE]http://tinyurl.com/yhmwtf


Adam Green - Jacket Full Of Danger


[CODE]http://tinyurl.com/yjfblh


Katie Melua - Piece By Piece (2006)




Massive Attack - Collected (2006)


[CODE]http://tinyurl.com/p2ctn


The Smashing Pumkins - Siamese Dreams




Morrissey - Suedhead: The Best Of Morrissey




Depeche Mode - Exciter




Duran Duran - Greatest Hits


[CODE]http://tinyurl.com/yh8dev


Richard Ashcroft - Keys To The World




Jane's Addiction - Strays + Nothin's Shocking + Ritual De Lo Habitual




Radiohead - Hail To The Thief




+ Blur, Helmet, Descendents, Yo La Tengo, Curve, etc.


[CODE]http://tinyurl.com/ybvb5p


Arctic Monkeys - Whatever People Say I'm, That's What I'm Not


[CODE]http://tinyurl.com/yb259o


The Arcade Fire - Funeral




The Unicorns - Who Will Cut Our Hair When We're Gone




Gnarls Barkley - St. Elsewhere


[CODE]http://tinyurl.com/ycrhyq


Ry Cooder - Paris, Texas


[CODE]http://tinyurl.com/ygc7zu