News
The Arcade Fire
will attempt to live up to expectations with a new album this spring. The band's Neon Bible will hit stores March 6 from Merge Records. The 11-song set follows up the band's self-released debut, Funeral, and was recorded primarily by the band in a church converted to a studio in Montreal. The Arcade Fire already gave fans a sneak listen to a track, through a voice-mail based toll-free number system last month ...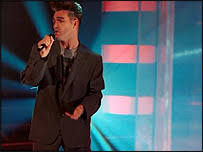 Morrissey
is reportedly in talks to represent the UK in this year's Eurovision Song Contest. The former Smiths' singer first expressed an interest in taking part after Daz Sampson's song, Teenage Life, came fifth in the contest last year. He said: "I was horrified but not surprised to see the UK fail. Why didn't they ask me?" The BBC confirmed they are in talks with the singer to write and possibly perform at the contest in May ...
Nine Black Alps
are halfway through recording their next album. The British rock act's set expectations ridiculously high for its follow-up to last year's Everything Is (Tiny Evil/Interscope) (read Aversion's review), with a blustery, hyperbole-filled post about its progress on its MySpace page. "We are halfway through our ground breaking new album, which is going to be the best album ever made," the act deadpanned. "It should top the Radio Times and Smash Hits magazine 100 best albums of all time. Easy." In more believable news, the act's laid down 15 tracks with producer Dave Sardy (Walkmen) in his Los Angeles studio, and expect 12 or 13 of them to surface on the still-untitled effort. Until then, the band will work on tearing the hell out of Sardy's setup. "So far we have blown up three amps and two sets of studio monitors, which sounds cool, but isn't clever," the act reported ...
Oasis
may soon have sprawling arrangements to back up the Gallagher brothers' sprawling egos. The band's Noel Gallagher told NME that he's mulling an album that breaks away from the traditional guitar-pop lineup that's been the band's calling card, especially in recent years. The act's new album, which it's on track to start recording sometime this year, may even include orchestral arrangements. If so, it's a marked change from the band's last, guitar-based effort, Don't Believe the Truth (Epic) ...
The Kaiser Chiefs
give in to the mob mentality on their sophomore effort. The band revealed its follow-up to 2005's Employment (B-Unique/Universal) (read Aversion's review) will be titled Yours Truly, Angry Mob. The Stephen Street (Smiths, Promise Ring) produced effort hits stores internationally Feb. 26, but North American fans will have to wait until March 27 to get their hands on a non-import copy ...
Pete Doherty
will soon be more than a maniacal, drug-addicted rock star: He'll be a maniacal, drug-addicted movie star. The role shouldn't be too much of a stretch for the Babyshambles front man: He'll play a struggling rock musician stranded playing to cruise-ship audiences in a remake of the 1962 flick Carry on Cruising, and appear opposite Kelly Brook, according to London's Daily Star ...
After screwing around with EPs and singles for a few years,
Voxtrot
broke ground on its debut long-player. No details were given about when the Austin band will wrap up its first full-length, which will come out from Beggars Banquet, though the act revealed it started recording in January on its official blog ...
Bonus:
The Plastic Constellations - Mazatlan + Crusades

!!!


David Thomas Broughton - The Complete Guide To Insufficiency

!!!


Entrance - Wandering Stranger + Prayer Of Death

!!!


Subtle - For Hero, For Fool

!!!


Nick Castro And The Young Elders - Come Into Our House

!!!


The Occasion - Canery Hours

!!!




Rogue Wave - Descended Like Vultures




Miossec - L'Etereinte


[CODE]http://tinyurl.com/y4csep
The Guillemots - Through The Windowpane

!!!


Band Of Horses - Everything All The Time

!!!


Hot Chip - The Warning

!!!


Brightblack Morning Light - Brightblack Morning Light

!!!


[CODE]http://tinyurl.com/yxs4ul


Garden State - OST


[CODE]http://tinyurl.com/y7yd2s


The Shins - Chutes Too Narrow




Sigur Ros - Takk




Jack Johnson - In Between Dreams




Thelonious Monk - Thelonious Monk


[CODE]http://tinyurl.com/upxsy
Wicker Park - OST

!!!


Low - Christmas [EP] + Things We Lost In The Fire

!!!




+ Sigur Ros, Royksopp, Nick Drake, Frou Frou, Coldplay, Collective Soul, Jeff Buckley, Air,




Filter, Adema, Morcheeba, Our Lady Peace, The Cranberries, Velvet Revolver, Zero 7, etc.


[CODE]http://tinyurl.com/yc6p66