Je Suis France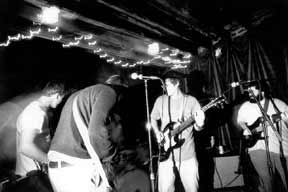 The Je Suis France
"vibe" can be a little hard for outsiders to figure out. This band practically redefines insularity: nine friends with ten years of inside jokes, strange nicknames (Iceberg, The Darkness, Crogers), and a mountain of good/bad/bizarre ideas (e.g. Mind Zappa, a Frank Zappa tribute EP where the band covered songs they had never heard using tabulations). In the Whimsy Dept., they give Ween a run for their money, but the band's general good-naturedness belies a real thirst for pushing the envelope of what it means to be an "indie rock" band. These are guys who get dressed up to Hall and Oates/Michael McDonald and have a party in the parking lot complete with Subway Party Sub who also count among their favorite bands Acid Mothers Temple, Robert Wyatt/Soft Machine, and the Jazz Butcher. Though it may be hard to believe, there is not an ironic or pretentious bone is these boys' bodies.
The band released
self-titled debut
in 2000 and the sophomore
Fantastic Area
in 2003.
Afrikan Majik
is the band's 3rd and most complete release. It's the unholy yacht rock + indie rock + krautrock amalgam that you didn't know you needed. It's filled with songs about astral planes, hammjamming, whale genitalia, and backing your friends up in a fight.
Recommended!
Je Suis France - That Don't Work That Well For Us
Je Suis France - Whalebone
Je Suis France @ MySpace
Bonus:
Arctic Monkeys - Favourite Worst Nightmare (2007)

!!!


Feist - The Reminder (2007)

!!!


Klaxons - Myths Of The Near Future (2007)

!!!




+ Sonic Youth, Grizzly Bear, The Arcade Fire, Tapes 'N Tapes, Spank Rock, Shiny Toy Guns, etc.


[CODE]http://tinyurl.com/y729cl


Nine Inch Nails - With Teeth + Year Zero (2007)




Self Against City - Take It How You Want It




+ Fall Out Boy, Bonobo, Boards Of Canada, etc.


[CODE]http://tinyurl.com/2uvqkf


Girl Talk - Night Ripper




VA - Just West Of Crunkopolis (Phoenix, Nada Surf, Zoot Woman, etc.)


[CODE]http://tinyurl.com/2plob9


Midlake - Trials Of Van Occupanther




Abandoned Pools - Armed To The Teeth


[CODE]http://tinyurl.com/32g726


Simon & Garfunkel - The Essential


[CODE]http://tinyurl.com/2lxz7c


The Chemical Brothers, Panjabi MC, Black Sabbath


[CODE]http://tinyurl.com/397rb3


Alternative/Indie


[CODE]http://tinyurl.com/2khh6m
Note:

Unfortunately, I was forced to introduce 'the comments moderation' in order to prevent any sort of offensive language to be used in the comments. I like to receive your comments and I'll try to publish all of them as soon as possible. Thanks for your understanding.