Illuminea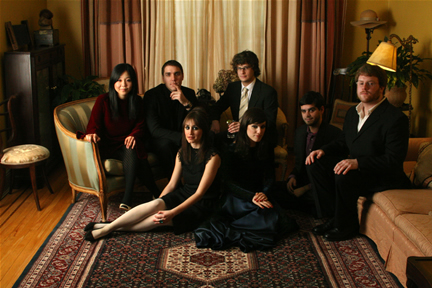 With its origin as a home recording project between college classmates Jen Appel and Marc Goodman in 2002, Originally named Illumina,
Illuminea
grew to become a seven-person band as friends and lovers joined them. Illuminea's debut album Nightlight was self-released in 2004.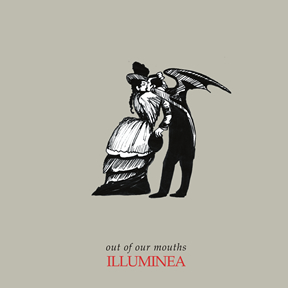 Out of Our Mouths
, the second album from the Philadelphia-and-New York-based indie-rock mini-orchestra Illuminea is out now. The album, was produced by Joel Hamilton (Tom Waits, Elvis Costello, Sparklehorse) and features 12 songs, varyingly sung by the band's three songwriters. Illuminea, which was recently serving as the backing band for Anti- recording artists The Book of Knots, played a tremendous record release show this past Friday at Johnny Brenda's in Philadelphia.
According to various people that we don't know, Illuminea is a "stunningly attractive" "mini-orchestra" who "create stunning music without the ego" and "nurtures four songwriters, a string section, and one very curious ("crazy cute") percussionist as they spend their nights sharing tales of the greatest barbecues and dreams of the west." Apparently, "discovering a band of this caliber at the beginning of their career is every music reviewers dream." Cool.
Check It Out!
Illuminea - Homewrecker
Illuminea - Sugaring

Illuminea @ MySpace
Bonus:
M.I.A. - Kala (2007)

!!!


Editors - The Back Room + An End Has A Start (2007)

!!!




LCD Soundsystem - Sound Of Silver (2007) !!!




+ Frank Black, Jose Gonzalez, CSS, Beck, All Seeing I, Dalek I Love You, Nouvelle Vague,




Silver Mount Zion, The Breeders, Pixies, Saint Etienne, Public Enemy, etc.


[CODE]http://tinyurl.com/2aje72
The New Pornographers - Challengers (2007)

!!!


[CODE]http://tinyurl.com/yqqygg


The Polyphonic Spree - The Fragile Army (2007)




Rilo Kiley - Albums




+ Mindless Self Indulgence, Goners, etc.


[CODE]http://tinyurl.com/yrlk2d


Alternative


[CODE]http://tinyurl.com/yoqdxm