Bitter Bitter Weeks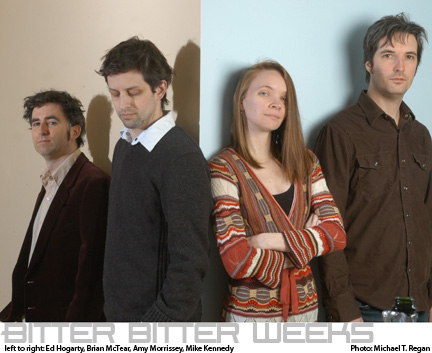 Brian McTear started Bitter Bitter Weeks some time around 2001. Though he ultimately aspired for it to be a band, he released two full length albums more or less as solo efforts in 2003 and 2004. The third album, Peace is burning like a river, finally sees the band vision come to life.
McTear began in the early 1990s with his band, the Marinernine. That lasted for nearly eight years, taking him from late high school, into and beyond his college years. When the Marinernine split up he focused on producing records, finding the likes of Matt Pond PA and Mazarin. It was a welcome change up, spending more time in the studio than in smoky clubs (McTear lives with Cystic Fibrosis, a respiratory condition, which is not always conducive to the details of being in a band). All the while, he never stopped writing songs.
His aspirations to sing and perform reignited sometime in 2001. It also became apparent that he was more than just any old frontman in a rock band. He was great singer, and with the release of the first self-titled album,
Bitter bitter weeks
, in 2003 (My Pal God Records), fans and critics agreed that his oft' understated songwriting finally found a worthy partner in his stalwart, yet subconsciously trembled voice.
Bitter bitter weeks evolved to become a full band in 2005. As a group effort, Peace is burning... features the great work of Amy Morrissey (keyboards), Mike Fleming (bass), Ric Menck (drums), Jesse Gallagher (organs) and Brian Christinzio (piano, organs).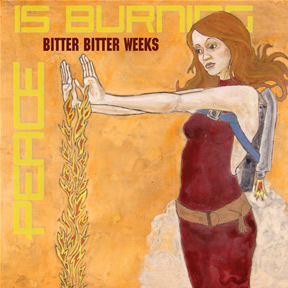 Peace is burning like a river
is a rock record. While past Bitter bitter weeks records were perceived to be dark in their simplicity, this new record is vast, honest, assured and dare we say "triumphant". The album picks up on arrangement ideas inspired by the work he and Quentin Stoltzfus did for Mazarin. At the same time, it taps into the American jangle of early to mid-80s college underground music ("alternative", they used to call it), while sitting atop a subtle Eno-esque bed of organs and tape echo. There are songs about life and death, mid-air daydreams, cold war apocalyptic fantasy, ghost dreams, hyper-awareness in the last seconds of life, friendship gone sour, as well as apologies to future generations, and much more...
Highly Recommended!
Bitter Bitter Weeks - Danger In The Halls
Bitter Bitter Weeks - Terrified
Bitter Bitter Weeks @ MySpace
Bonus:
Mum - Go Go Smear The Poison Ivy (2007)

!!!


[CODE]http://tinyurl.com/2xgbna
The Magnetic Fields - 69 Love Songs

!!!




Killing Joke - Night Time




Jefferson Airplane - Surrealistic Pillow


[CODE]http://tinyurl.com/2z5u9u


Aimee Mann, Beirut, Camera Obscura, Magnetic Fields, Ratatat, Regina Spektor,




Stars, The Blow, The Books, The Arcade Fire, The Kings Of Convenience, etc.


[CODE]http://tinyurl.com/2jmzqd


The Stills - Logic Will Break Your Heart




The Decemberists - Albums




They Might Be Giants - Flood




The Tiger Lillies & Kronos Quartet - The Gorey End




Earl Klugh - Midnight In San Juan


[CODE]http://tinyurl.com/2hoasd


Daphne Loves Derby - Good Night Witness Light (2007)




Boys Like Girls - Boys Like Girls (2007)




Linkin Park - Minutes To Midnight




Iron Maiden - A Matter Of Life And Death




Velvet Revolver - Contraband




Bond - Born


[CODE]http://tinyurl.com/2daef8


The Fratellis - Costello Music




The White Stripes - Icky Thump


[CODE]http://tinyurl.com/24fllv