Jens Lekman
Sweden's
Jens Lekman
emerged from relative obscurity to quickly establish himself as the darling of the global indie pop set, winning widespread acclaim from fans and critics for his uncommonly witty and well-crafted pop songs. Born February 6, 1981, in Gothenburg, Sweden, Lekman exhibited little interest in music as a child, but at 14 was recruited to play bass in a friend's cover band. Within weeks he was writing his own original material, quickly accumulating hundreds of songs. Assuming the alias Rocky Dennis (borrowed from the disfigured protagonist of the 1985 American film Mask), Lekman recorded and released a series of limited-edition CD-Rs beginning with 2001's The Budgie-Album. A year later, he compiled a collection of highlights and mailed the sole copy to the U.S. indie label Secretly Canadian, but remained largely unknown until the 2003 EP Maple Leaves became something of a cause célèbre on Internet file-sharing services. The Swedish indie Service Records reissued
Maple Leaves
later that same year, and after abandoning his pseudonym once and for all with 2004's
Rocky Dennis in Heaven EP
, Lekman issued his acclaimed full-length debut,
When I Said I Wanted to Be Your Dog
, distributed in the U.S. via Secretly Canadian. The LP generated the Swedish Top Ten hit
"You Are the Light,"
and in 2005 Lekman traveled the globe, issuing several tour-only EPs and collecting his previous singles, B-sides, and compilation tracks as
Oh You're So Silent Jens
. Following this flurry of activity, he announced on his website plans for an extended hiatus from performing, scrapping a planned sophomore LP and reportedly accepting a position at a local bingo parlor; Lekman nevertheless quit after just two days on the job and fully rededicated himself to his musical pursuits.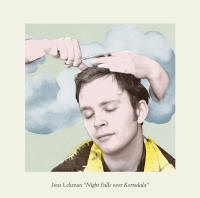 Live performances by Lekman have differed in style; at times he has performed alone with only a guitar and a CD player, sometimes doing a cappella versions of his songs, while at other times he has been accompanied by a choir and string quartet. Recently, he has toured with an all-female back-up band, dressed mostly in white, that provides basic rock instrumentation as well as horns and backing vocals. According to Jens Lekman's official site, a new album,
Night Falls Over Kortedala
, will be released in Sweden on September 5th and in the rest of the world October 9th, with the single "Friday Night at the Drive-in Bingo" preceding the album's release.
Highly Recommended!
Jens Lekman - Friday Night At The Drive-In Bingo
Jens Lekman - A Sweet Summersnight On Hammer Hill
Jens Lekman - You Are The Light
Jens Lekman @ MySpace
Bonus:
Boris with Michio Kurihara - Rainbow (2007)

!!!


A Hawk And A Hacksaw - The Way The Wind Blows (2006)

!!!


Eagles Of Death Metal - Peace Love Death Metal

!!!




+ Aphex Twin, Devin The Dude, E.S.G., Eyehategod, Sleep, Kyuss, James Brown, Mos Def, NOFX,




RJD2, Public Enemy, Radiohead, Janes Addiction, Ziggy Marley, Lou Reed, Bad Brains, etc.


[CODE]http://tinyurl.com/33zuhn
You Say Party! We Say Die! - Loose All Time (2007)

!!!


My Brightest Diamond - Bring Me The Workhorse

!!!




CocoRosie - Noah's Ark




Lila Downs - Una Sangre (One Blood)




The Puppini Sisters - Betcha Bottom Dollar (2007)


[CODE]http://tinyurl.com/2na8b8


Brand New - Devil And God Are Raging Inside Of Me




Stretch Arm Strong - A Revolution Transmission


[CODE]http://tinyurl.com/2w5y4z


Amy Winehouse, The Sounds, Nelly Furtado, etc.


[CODE]http://tinyurl.com/3b2vxf


Arctic Monkeys, Blink 182, Prodigy, Faithless, etc.


[CODE]http://tinyurl.com/34tms8


The Kooks - Inside In, Inside Out


[CODE]http://tinyurl.com/2j3lls


Radiohead - Amnesiac


[CODE]http://tinyurl.com/3939hl


Radiohead - Live In Toronto


[CODE]http://tinyurl.com/yqurm6