The Whitsundays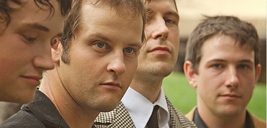 The Whitsundays
certainly have a knack for writing yellowed, reverb-wrapped pop music, borrowing from the grand tradition of English psychedelia, garage, and vintage organ rock. With reverent nods to the flower-picking whimsy of the Zombies, the red-faced bluster of the Animals, and the delightful inanity of Syd Barrett, the Whitsundays' self-titled debut is a vintage gem, and a charming hodgepodge of '60s musical ephemera.
The main Whit, Paul Arnusch -- who also logs time with starry post-rock supernauts Faunts and post-punk reduxers the Floor -- called on his ever-expanding collection of vintage gear (from archaic guitars to Rhodes and Wurlitzers) to document a loose, passionate love letter to the past 40 years of "timeless music." Of course, none of this backward-glancing praise is to say that Arnusch's first offering with the Whitsundays sounds all that old. On the contrary, he manages to transport the antiqued sounds of the '60s -- walls of dreamy harmonies, straight-away drumming, boney guitars, whirring organs -- across the same updated palates employed by bands like Dressy Bessy, Apples in Stereo, The Shins, and Belle & Sebastian.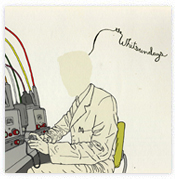 And while this is quite the departure for Arnusch, who is more used to pounding out labyrinthine experiments behind the kit for Faunts and 80's-minded melodrama with the Floor than such lovely sock-hop simplicity, his experimental sensibilities still peek through on the Whitsundays' self-titled debut album. In fact, these curiosities and quirks are perhaps the album's strongest suit, tugging a set of super-sweet diner pop through the ages, and somehow updating it along the way.
Sharing two members with the ever-popular Shout Out Out Out Out and hailing from Edmonton, Alberta this heavily 60's influenced psych-pop band will be releasing their debut January 22nd, 2008 through Friendly Fire in the US and Pop Echo Records in Canada.
Recommended!
The Whitsundays - Sorry James
The Whitsundays - It Must Be Me
The Whitsundays @ MySpace
Check Comments for Bonus!