The Library Is On Fire
The Library Is On Fire
is a three piece art punk band hailing from the industrial neighborhood of Bushwick, Brooklyn, NY. The band began in Kent, Ohio, in November of 2006 as singer/guitarist Steve Five started compiling songs following a bad breakup and a move from New York back to Ohio. The material quickly progressed and Five enlisted bass player Antoine Henderson, who had benn playing in a multitude of bands in Ohio at the time. Original drummer Cory Race of Ohio band The Party Of Helicopters originally played drums, but moved to Chicago soon thereafter.
With demos completed, The Library Is On Fire enlisted Todd Tobias of Guided By Voices to produce and engineer their debut album entitled Cassette. The Band then self-released the album. Subsequent to the release of Cassette, Steve and Todd began a recording project called Brother Earth.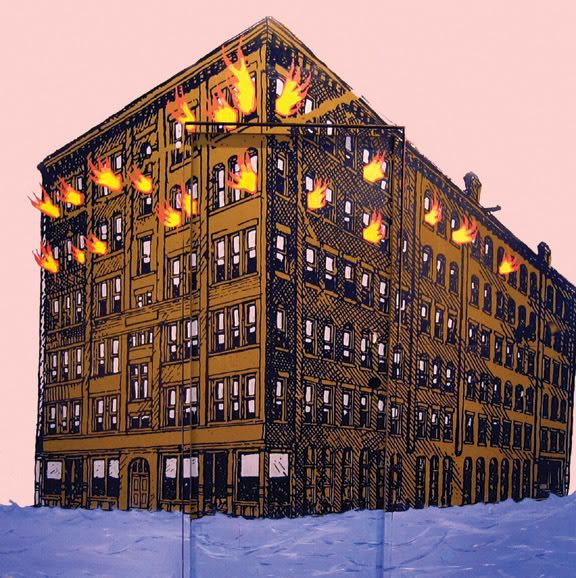 Following Five's acceptance in the writing program at Manhattan's New School (where other noted alumni include Jack Kerouac and Sufjan Stevens), the band moved to New York City, recruiting drummer Pete Sustarsic, another Ohio native. The band has played shows with friends Pterodactyl, Ex Models, Marnie Stern, Christy & Emily, Knyfe Hyts, and Oneida among others.
Though unique and idiosyncratic, the band's sound has been likened to such disparate artists as Hüsker Dü, Plastic Ono Band, or "Guided By Voices and Nirvana on crack" as their friend and fellow Williamsburg recording artist Miles Robinson said.
The band has raised a lot of interest in the Manhattan art scene, garnering a performance at the opening celebration of Manhattan's New Museum Of Contemporary Art on December 1.
The Library Is On Fire CD entitled
Cassette
to be released to the General Public at the Grog Shop on Friday January 11th!
Recommended!
The Library Is On Fire @ MySpace
The Library Is On Fire - Pink Rock (In The Front Yard)
Check Comments for Bonus!