Why?
WHY?
is, most often, a trio of handsome Midwestern men with a shared past, present and future. Today, they fiddle around with skins, strings and bells through microphones attached to tape, presenting their "findings" to the waiting world. In an earlier decade they were all born in Cincinnati. And in the time in between, much did happen. Yoni Wolf, for instance, grew up the second son to an art book editor and a rabbi. He got his start recording bad poems and sloppy beats on the family synagogue's forgotten 4-track. In junior high he discovered hip-hop; in art school he learned how to drop out. His brother Josiah played drums at worship service as a tot, dominated Concert Band as a teen, and fell in love with the compositions of Thelonious Monk on his way to University of Cincinnati's music conservatory. Doug McDiarmid would eventually get expelled from UoC for carrying a stun gun, but was first conceived by two French teachers and taught piano while in kindergarten. He went to high school with the Wolfs, where he played in Steve Miller cover bands. In various permutations together and with other now-notables (Dose One, Odd Nosdam, Mr. Dibbs, Slug), these three created and/or contributed to a number of freewheeling rap and lofi bedroom-rock related projects, some still unexcavated: Miss Ohio's Nameless, Apogee, Greenthink, Reaching Quiet, and the now seminal cLOUDDEAD. Their wildest dreams were achieved when they relocated to the West to make pop-inflected psychedelic folk-hop.
Yoni was the first to make the move. For four years, two EPs and one color-drenched album (2003's
Oaklandazulasylum
), WHY? was his alone. He honed his trademark delivery—that sickly sweet, half-rapped, singsong-suicide style—shined up his wry, picturesque poetry on life, love and self, and developed a clip-andcollage composition aesthetic using keyboards, toys, guitars, samplers and anything worth banging on. When Doug and Josiah joined Yoni in Oakland, they brought a hoard of instruments and the ability to wail on every last one of them. By chops and imagination, WHY? grew into a thing of flesh, bones and fully fledged songs. In 2005, the band released
Elephant Eyelash
, and suddenly that once tenuous future seemed solid. Critics swooned; ladies lauded; WHY? did not rest. They toured (with Silver Jews, Yo La Tengo, and Islands). They collaborated (with Danielson, Department of Eagles, and Subtle; Yoni made Hymie's Basement with Fog's Andrew Broder). They put out yet more music (the Rubber Traits EP and "Dumb Hummer" 7-inch).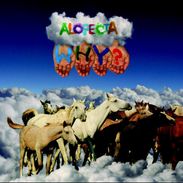 Thus, the impending release of WHY?'s latest, brightest, darkest smile-twisted opus,
Alopecia
, isn't so much a return as it is an affirmation of something already in the air. In February of 2007, the trio temporarily relocated to Minneapolis and became five, officially inducting Andrew Broder and Mark Erickson of good-art friendlies Fog into the band, then recording their new work live. As can be expected, Alopecia is a fantastic offering of raw sweat and dreams inspired by nothing more or less than the infinite erring bits of daily existence.
Recommended!
Why? - The Hollows
Why? @ MySpace
Check Comments for Bonus!