Chapman & Brocker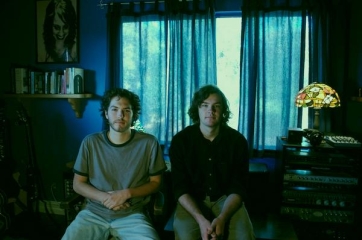 Chapman & Brocker
is a dream pop duo from Thousand Oaks/Los Angeles, California.
This is what they say about themselves:
'We got our start in 2003 when we begged our father to put a song of ours in his documentary, Best Hours Of The Day. One song turned into two, then three, and eventually we somehow talked him into letting us score the whole thing. We soon realized we were way in over our heads, but it turned out to be nothing that a couple of recording books and some college savings couldn't solve. With a small bedroom studio in place, we went to work like dogs until the score and film were complete. After some kind words from the L.A. Times and other publications we decided to try our hands at the song-writing world. For this project, we brought along our influences from different film composers and our own experiences from scoring as well. Dance of The Crazy Man is our first full length album. We wrote, recorded and produced everything ourselves. We Spent three years making this album and we will be releasing it this winter. That is if our computer does not crash for a third time. We're crossing our fingers.'
After receiving some positive critics for their documentary work,
Best Hours of the Day,
the brothers duo Chapman & Brocker self-released their debut album '
The dance of the crazy man'
. The album is collection of eleven intelligently crafted pop songs, deeply melancholic and sensible, showing an enormous song crafting potential of the duo. Listening to the dance of the crazy man leaves an impression that the songs were made for the film, obviously reflecting the past experience collected during C&B's previous work on documentaries. Nevertheless, the well-crafted melodies and beautiful lyrics exhibits a great potential of C&B.
Recommended!
Chapman & Brocker - The Heart
Chapman & Brocker - Chimes
Chapman & Brocker - Crazy Man
Chapman & Brocker @ MySpace
Check Comments for Bonus!