Boy Genius
Boy Genius
is an indie rock quartet originating from Brooklyn. The band members are two guys, Jason Korenkiewicz (vocals, guitar, harmonica) and Jeffrey Mensch (bass, acoustic guitar, backing vocals)] and two ladies, Lisa Klimkiewicz (drums, melodica, backing vocals) and Marisa Cerio (guitar, backing vocals) (the latter of whom replaced recording guitarist Christopher Amann). Boy Genius has been often compared to bands like Pavement, the Feelies, the Go Betweens and Reckoning-era R.E.M.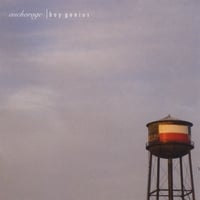 They released their debut EP last year, Eureka, and it was met with universal acclaim. Their debut LP,
Anchorage
, was recorded at Seaside Lounge in Park Slope, Brooklyn with Josh Clark (who recorded the first Beirut album and the most recent New Pornographers record).
Anchorage
is an enjoyable collection of eleven pop tunes, delivered in somewhat lo-fi fashion, but still catchy and entertaining. The arrangements are quite simple with frequent twists so that they don't repeat too often. Jason's vocals could probably sound much better if the production would be better. However, backed with Marisa's voice, it still makes a fine lead on this self-released record. This is a solid debut album and should be certainly checked out.
Recommended!
Boy Genius - Radio Silence
Boy Genius - Tied In Two
Boy Genius @ MySpace
Check Comments for Bonus!