Jars Of Clay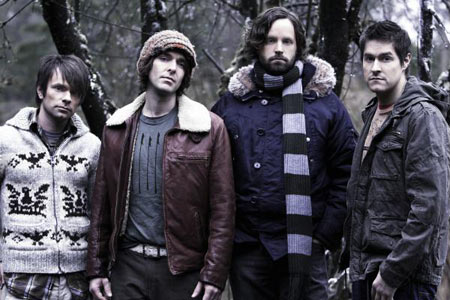 Since the launch of their career in 1995 with the hit song "Flood,"
JARS OF CLAY
—Dan Haseltine, Charlie Lowell, Stephen Mason and Matt Odmark— has amassed more than five million in career sales (5 Gold, 2 platinum and 1 double platinum certifications), three GRAMMY Awards, an American Music Award nod, 17 No.1 radio hits, and numerous film credits and BMI honors for songwriting and performing. In June of 2007, the band blazed a new trail with the creation of their own label imprint, Gray Matters, under the Nettwerk Music Group umbrella.
Christmas Songs
was the first album released through Gray Matters in the fall of 2007 has garnered both critical acclaim and commercial success.
JARS OF CLAY are currently in the studio with producer Ron Aniello (Lifehouse, Guster, Barenaked Ladies) putting the final touches on their upcoming album, due out early next year on the band's own imprint label Gray Matters. They are then set to join Third Day Live, Switchfoot and Robert Randolph & the Family Band on the "Music Builds" tour, which kicks off August 21st in Detroit and wraps on October 12th in Denver. The tour will benefit local affiliates of Habitat For Humanity (tour dates below).
JARS OF CLAY will release CLOSER EP through all major digital service providers on August 5th. The 5-song EP will feature two brand new tracks ("Closer" and "Safe To Land") that will be included on their forthcoming full-length album, as well as new versions of fan favorites including "Flood" and "Love Song For A Savior." The band will also make the EP available physically both on tour dates and through their website (www.jarsofclay.com) beginning August 19th.
Recommended!
Jars Of Clay - Closer
Jars Of Clay @ MySpace
Check Comments for Bonus!