Cage The Elephant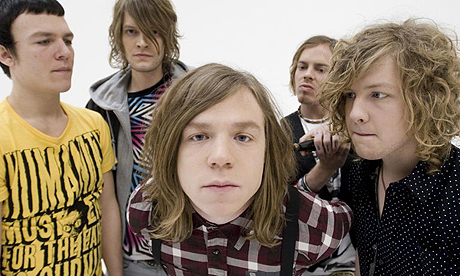 Cage the Elephant
is an American rock band from Bowling Green, Kentucky. Their single "Ain't No Rest For the Wicked" reached number 32 on the UK Singles Chart. The band signed with EMI Records after showcasing at the 2007 South by Southwest music festival, and then moved to East London, England.
They released their self-titled debut album,
Cage the Elephant
, on 23 June 2008. The album obtained favorable reviews, which praised its delivery of powerful rock. Cage the Elephant increased their fanbase after appearing as a support act on tour with The Pigeon Detectives in early 2008. The single, "Ain't No Rest For the Wicked", was free single of the week on iTunes for the week of April 12.
Recommended!
Cage The Elephant - The Tiny Little Robots
Cage The Elephant - Lotus
Cage The Elephant - I Wanna Be Your Dog
( Iggy Pop & The Stooges cover)
Cage The Elephant @ MySpace
--
SONG OF THE DAY:
Julian Plenti (Paul Banks from Interpol) - Fun That We Have
(from
Skyscraper
, out August 4th on
Matador
)
--
Check Comments for Bonus!