The Turf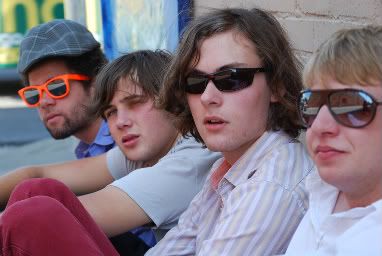 The Turf
is an indie/rock/pop band from Nashville, TN. Guitar-player/keyboardist Slade Utley and singer/guitar-player Brendan Mayer are sons of musicians themselves (Mike Utley and Peter Mayer, both of whom play with Jimmy Buffet). Combined with bassist Nigel Hood and drummer Nick Carter, their creativity helps construct a genuinely intricate and imaginative sound, combing a rough, edgy side with more spacious, softer, and melodic elements.
The band was started in the summer of 2006 by close high school friends who have been writing, performing, and recording ever since. The band has been compared to The Strokes, Artic Monkeys, or The Rapture, however their influences come from artists such as Pink Floyd, The Beatles, Led Zeppelin, and Talking Heads, as well as many others.
The band has finished the work on their debut album, entitled "Fascination of a Sort", available for streaming on WEDNESDAY JUNE 10th. The guys spent all of last summer recording the record in Lala Land Studios in Muscle Shoals, Alabama and then finished up in our hometown. It is produced, recorded, engineered, and mixed by Jason Hall, with additional production and mixing by Jim Mayer and mastering by Jim Demain. The album will be offered for free via The Turf MySpace page.
Recommended!
The Turf - The Sexing
The Turf - Prey
The Turf @ MySpace
--
SONG OF THE DAY:
The Radio Dept. - David
(from
Clinging To a Scheme
, out June 2009 on
Labrador
)
--
Check Comments for Bonus!