The Blakes
The origins of
the Blakes
are rooted somewhere in the backwoods of central Maine, where brothers Garnet & Snow Keim created a shared ambition to deviate from their seemingly inevitable fates as lifelong paper mill employees (or something of that nature), and try their hands at music. In the spring of 1999, the duo found themselves in Seattle, where they ended their epic search for a drummer in Bob Husak, who was toiling away as a barista. From there, the trio took off for the sunny skies of LA landing at the Days Inn in Glendale and recording their first full-length album during the TV off-season at CBS studios. Here is where they decided to take on the name "The Blakes." The name came to Garnet in a dream after he¹d attended a showing of the works of William Blake.
The newly formed Blakes recorded two EP's in succession. The Bottle was recorded in 2004 and another called Little Whispers in 2005. AND along with a relocation back to Seattle, The Blakes had become notable for their chaotic and highly energetic live shows. Ever ambitious, the boys recorded over forty songs for their third full length. When it was whittled down, The Blakes personally took several copies over to KEXP, which immediately championed the band and catapulted them to #1 on their charts. They eventually signed to local indie imprint Light in the Attic Records. In the summer of 2007, the label issued an EP, Streets, which featured three album tracks and two exclusives.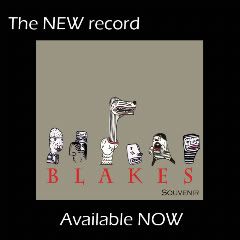 In the meantime, the band played several high profile Northwest shows, including appearances at Sasquatch, Bumbershoot and Capitol Hill Block Party and started embarking on cross country national tours. In Europe, the boys played the TV show Album de la Semaine in France and toured with the Gossip, the Kills and Pete and the Pirates as part of the Musicale en Tournee tour, which was filmed and edited into a TV special for Canal + and supported the Wombats across the UK. Other touring partners abroad include the Brian Jonestown Massacre in England, France, and Germany. Festival dates in the US followed including Sasquatch and Bumbershoot, and also performed at Lollapalooza, SXSW, MusicFest NorthWest, CMJ and Sunfest in Miami. iTunes voted the Blakes album one of the Top 10 records of 2007. Garnet and Snow put out a full-length record consisting of more introspective songs as BEADS earlier in the year.
The Blakes released full length
Souvenir
on October 13th, the long awaited follow up to the Streets EP & the recent reissue The Blakes LP.
Recomended!
The Blakes - Basket
The Blakes @ MySpace
--
SONG OF THE DAY:
The Mary Onettes - Puzzles

(from
Islands
, out November 3rd on
Labrador
)
--
Check Comments for Bonus!