Allison Moorer
Nearly 12 years ago,
Allison Moorer
made an unforgettable introduction with her contribution of the thoughtful ballad, "A Soft Place to Fall," to the soundtrack to the Robert Redford-directed drama, The Horse Whisperer, which later earned her an Academy Award nomination. From there, Moorer went on to carefully craft a long-lasting career with her impressive debut LP, Alabama Song, while challenging herself to always look inward for an even deeper meaning -- which she certainly explored on Miss Fortune (2002) and The Duel (2004).
In 2007, Moorer received a Grammy nomination for Best Country Collaboration with Vocals for "Days Aren't Long Enough," a song co-written with her husband, singer-songwriter Steve Earle. Venturing into a creative world beyond music was merely natural, too; that fall, Moorer went on to appear in the stage production of Howard Zinn and Anthony Arnove's "Rebel Voices," a theatrical adaptation based on their best-selling book, Voices of a People's History of the United States. And in late 2009, Moorer appears in The History Channel's The People Speak, a film inspired by Zinn's A People's History of the United States, which also features Bob Dylan, Morgan Freeman, Bruce Springsteen, Danny Glover, Matt Damon, John Legend, Josh
Brolin and more.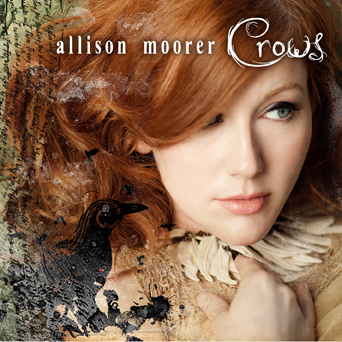 Allison Moorer's highly anticipated release
Crows
is out Feb 9th, on Ryko. Crows, produced by R.S. Field (Buddy Guy, John Mayall) at the House of David Studio in Nashville, TN, is a marked departure from her previous work and her first original material since 2006's Getting Somewhere. Crows is wholeheartedly real -- its spirit is tangible and each lyric could belong to anyone. Moorer's look inward is pure and without hesitation, all while she's exploring what could exist outside of one's soul.
Recommended!
Allison Moorer - The Broken Girl (acoustic)
Allison Moorer @ MySpace
--
SONG OF THE DAY:
The Radio Dept - Heaven's On Fire
(from
Clinging To A Scheme
, out April 21st on
Labrador
)
--
Check Comments for Bonus!